Steel Building Designs: 6 Key Benefits of Steel Buildings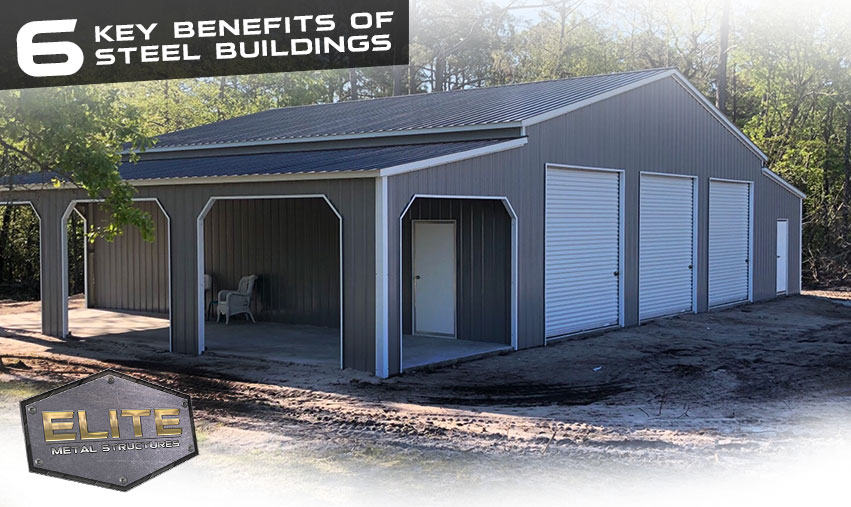 "If you're interested in saving money while building a strong structure, look no further."
Steel building designs have been quickly becoming a standard in construction because they provide a number of benefits. Unlike most types of building materials, metal isn't prone to much damage. It's also cost-effective, making it easier for individuals to fund their projects.
Although things like wooden structures are still commonly used, they cost a lot more than steel buildings and require more maintenance. Custom steel buildings can be built to suit your needs and are easy to modify when needed. You'll find that the steel building cost isn't as much as you may think.
Here are the six key benefits of steel buildings.
1. Reduced Insurance Rates
One of the biggest benefits of steel buildings is that their insurance rates are generally much lower than most other structures. Steel is a strong material, making it resistant to damage from things like wind, earthquakes, snow, rain, termites, lightning, fire, and mold.
All of these things are something that wooden structures are vulnerable to, causing the insurance to cover them to be costly. Those that are framed with steel will have discounted rates because the insurance companies won't have to worry about them as much as others.
2. Energy Savings and High-Grade Insulation with Steel Building Designs
A steel building design allows for high-grade insulation that can keep a building warm in the cold weather and cool in hot weather. Buildings that are used for agriculture and storage are often made from steel because they hold fragile equipment and materials.
When you have a steel building, you won't have to worry about incorporating an air conditioning or heating unit. However, some people choose to add these things as an extra measure to keep their buildings at certain temperatures.
Not all buildings can be made completely out of steel as commercial and residential buildings need thorough climate control systems. In these cases, you can frame the buildings with steel.
Unlike wooden or brick structures, steel buildings have deep wall cavities that give you plenty of room to pack them with insulation. Over time, you'll find that you're spending much less on energy because you won't have to use anything to maintain the temperature.
To further save energy, you can equip a steel building with cool-coated roofing panels. These will reduce the heat within it when it's hot out.
3. Low Maintenance on Steel Buildings
Steel buildings require far less maintenance than other types of buildings thanks to their durability. Unlike a wood exterior, steel doesn't need to be repainted every few years. You also won't have to worry about replacing external bricks or panels.
People typically spend a lot of money to get rid of things like termites and take care of the repairs from termite damage.
Since steel can't be penetrated by termites or rodents, you won't need to use harsh chemicals that can render parts of your building useless for several days. Aside from that, you won't have to replace any steel.
Most insurance companies don't cover termite damage so you'd be avoiding problems if you had a steel building.
Steel buildings also have fewer foundation problems than other buildings because they don't require as many pieces of framing. Having fewer pieces reduces the weight on the foundation, making it less likely that a building will settle. Foundation repairs typically cost a lot, so a steel building can save you future expenses.
4. Remodeling a Steel Building Is Inexpensive
Changing the shape of a steel building is as simple as adding new frames to the structure. Removing and adjoining steel parts is a lot simpler than wood because they're already formatted to fit. This is beneficial to anyone that finds success with their metal building and would like to enlarge it to do more things.
5. Steel Buildings Retain Their Value
You'll notice that steel building prices are generally the same no matter when you're looking at them. Steel buildings retain their value because of their strength and the fact that they remain in good condition for a long time.
Most steel wall panels and roof panels come with a lifetime guarantee, so you can replace anything for free or at a discounted price if you have any issues within whilst your steel building is still under warranty.
6. You Can Sell the Steel After a Steel Building's Lifecycle
If you don't plan on using a steel building for forever, you can sell the steel after it's lifecycle. In most cases, parts of your building will be used for other buildings. All of your leftover pieces can be recycled and formed into new parts.
When selling the steel, you can expect to get almost as much as you would if you were to sell the entire building. Steel doesn't lose any of its properties or strength when recycled, so it will continue to retain its value.
Consider Getting a Steel Building Today
A steel building may be exactly what you need depending on what kind of project you're doing. Whether you'd like to make a warehouse or garage, the wide range of steel building designs can be used to help you accomplish your goals.
You can browse our designs to see what type of structures can be made with steel. We offer buildings, barns, carports, and more.
Call us at 844-364-9595 to speak with someone if you're interested in getting a steel building.
Metal Building Quote Request
Need To Talk To A Pro?
The search for your perfect metal structure ends here. If you're ready to begin your project, contact a metal building specialist now to customize your very own.